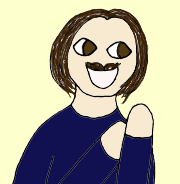 Corinn (pronounced: KOR-ihn)
Introduced: Strip #748
Age: Forty-four.
Species: Human. Personality: Corinn has more skill at magic than either of his brothers, but his constant issue with following directions makes him a very sloppy magic-user. He's cheerful and friendly with everyone who doesn't try to boss him around.
Other: Corinn was the middle child of his family, and he did not get along with his father at all. Where Richard was obedient and Joralan was self-righteous, Corinn had a habit of angry defiance that finally culminated in him taking off for good when he met Elsseran.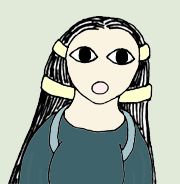 Elsseran (pronounced: El-SEHR-ehn)
Introduced: Strip #745
Age: Thirty-three (approximately forty-seven in human years).
Species: Fairy (black). Personality: Elsseran is cool-headed and cold with strangers; only family members really see her warm side. She doesn't smile or laugh very often, but she has a sense of humor, and her husband's ebullience quite often amuses her.
Other: Elsseran was fairly quiet in her childhood; she studied a lot to make up for her discomfort around strangers, but always felt rather dull and unsatisfied. When a mutual teacher set her up on a blind date with Corinn, she was drawn to him quickly.