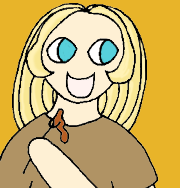 Bobby
Introduced: Strip #607
Age: Eighteen.
Species: Human. Personality: Bobby's quite nice and quite stupid. He developed a massive crush on Alassa because she was pretty, and wound up gaining the dubious distinction of being her "boyfriend" only by following Cecelia's advice and pretending to like Aylia instead.
Other: Since the traumatizing breakup, Bobby's been afraid of girls and has avoided the royal court with paranoia. He'll be fine, probably, but it will take awhile. On the other hand, perhaps he'll have better taste whenever he gets a second girlfriend.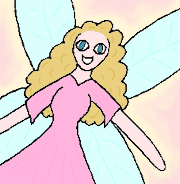 Lullela
Introduced: Strip #416
Age: Seventeen (approximately twenty in human years).
Species: Fairy (pink). Personality: Lullela is not the brightest crayon in the box. She's ditzy, rather less than competent, and desperately wants to be a fairy godmother. Fortunately, there are enough snobby nobles who just want a fairy godmother to look the part that she'll be okay.
Other: While living with Alassa, Lullela was very nice and very gullible towards her. She helped Alassa with her homework whenever Alassa demanded it, she called Alassa "Zangaria," and she couldn't bear to hear people insult her roommate, even in true ways.