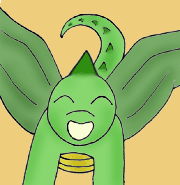 Gavin (pronounced: GAE-vin)
Introduced: Strip #570
Age: Three.
Species: Dragon.
Personality: Gavin is an energetic, cheerful, exciteable toddler. He loves his family, flying, playing games, chewing on things, and getting into trouble -- well, until Mommy notices and gets mad. Being a toddler, Gavin has a defiant streak and a tendency to find way more mischief than an adult would suspect. He loves his mommy and Auntie Daria.
Other: Gavin was so young when his birth parents died that he barely remembers them. He was inconsolable for the first few months after Daria's sister and brother-in-law died, but Cecelia and Daria were there for him the whole time. He accepts Cecelia as his mommy wholeheartedly now, and may even have forgotten she wasn't there originally.