After just over eight years of daily updates, this comic strip has wrapped itself up into a tidy conclusion. It ran every weekday from March 31, 2003 until May 27, 2011, and completed with exactly 2,100 updates. It will stay online forever (or at least, as long as I have any say in it), so you may always start from the beginning, settle for a summary instead and start with the fourth semester, or browse the extras pages. My main site contains links to all the stories I'm working on and updating currently; if you've liked this story, you may want to read the other things I'm doing. :)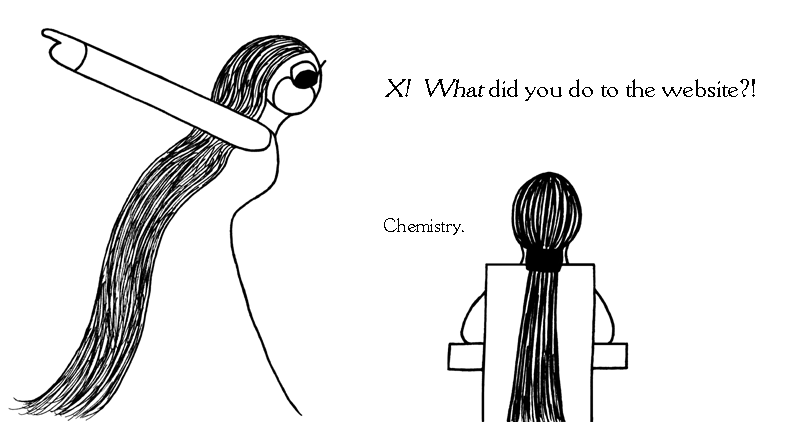 First Strip The End Next Strip Last Strip


RECENT NEWS:
(Updated: May 7, 2018)

This comic strip has now been complete since 2011, when I wrapped up the story and gave it a real ending. In case you're curious about what I've been doing since then . . .

2002-2003: I started drawing A Magical Roommate before I posted any of it online.
2003-2011: I published one strip every Monday, Tuesday, Wednesday, Thursday, and Friday for eight years.
2007-2009: I started drawing To Prevent World Peace before I posted any of it online.
2009-2017: I published one page of To Prevent World Peace every Friday.
2011: I finished this comic strip without ever having changed the schedule or going on a hiatus.
2012: I published my first book, Black Magic Academy.
2013: I published my second book, a short story collection.
2014: I published my third book, the first book collection of this comic strip.
2014: I launched my Patreon campaign.
2015: I published my fourth book, The Keeper and the Rulership.
2016: I picked up the pace and wrote and published twelve books, including Dragon's Egg, which became the most popular story I've written.
2017: To Prevent World Peace was supposed to be finished by now, but it wasn't done yet. Since I could no longer afford the time to do it weekly, I switched the update schedule to monthly.
2017: I wrote and published twelve books, including the first few books of Magical Mayhem, which is a prose retelling of To Prevent World Peace.

As I write this, in May 2018, I am on track to finish my fifth book for this year. I should be publishing twelve books a year for the foreseeable future, as that's now my story focus. To Prevent World Peace is updating on the first Friday of every month, and it will continue to do so until it finishes. I'm slowly making progress on re-lettering Strips #266-492, and I plan to launch a Kickstarter campaign for book two when I feel I have enough done to choose a release day. If you want to hear when book two is ready to launch, I recommend joining my mailing list here.

While I feel some regret about doing less with webcomics nowadays, webcomics were always a diversion from what I really wanted to be doing, which is writing and publishing books. So I'm thrilled that I'm now mildly prolific with those! :D

Hope you'll enjoy my other stories, too. And I hope this one is fun for you! :)





Main Site