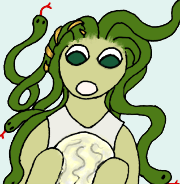 Tefath (also known as: Fthgathsthsgaftssfth)
Introduced: Strip #1,607
Age: Twenty-two (approximately twenty in human years).
Species: Gorgon (mountain clan). Personality: When the Gorgon was about six years old, she had a good friend from an appropriate family that both sets of parents thought seemed an acceptable match. They asked the two children's permission, and the two have been officially betrothed ever since. Tefath is a little shy, but very gentle and sweet. While he and the Gorgon have never been particularly romantic, they're comfortable around each other and will happily get married eventually.
Other: It is common, in mountain Gorgon society, for people to call each other by a term that describes their relationship (like "mother" or "father"), rather than by their often-quite-long names. "Tefath" means "fiancé" (specifically, "the male I am officially betrothed to"). "Kefath" is the female equivalent, and what he calls his fianceé.