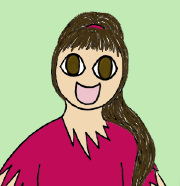 Diana
Introduced: Strip #30
Age: Twenty.
Species: Human. Personality: Diana's a bit more shallow than her friend Nicole, and she loves parties. She's got more tact, she's stern about politeness, and she does not understand why Nicole feels the need to flee from her old roommates whenever she catches sight of them. She's pretty disciplined when she wants to be, but that happens rarely.
Other: Nicole spends most of her time hanging out with boys, either dating or in athletic situations; outside her current roommates, the only girl she spends time with regularly is Diana. Diana has a lot more friends, and Nicole doesn't really like all of them, so when they're together, it's generally not in large groups. The two of them were friends in junior high school, lost touch for awhile, then met again at the beginning of their freshman year of college.